Let's take a look at the differences between these two heavyweight Windows phone 8 devices. Granted – the price difference is significant between the two but they are definitely rivals as both Samsung & Nokia have produced high spec Smartphones on WP8.
So what are the main deciding factors between the two? let's find out..
OS: Right, a fairly straight forward one here as both devices are running on the latest Windows OS (WIndows Phone 8)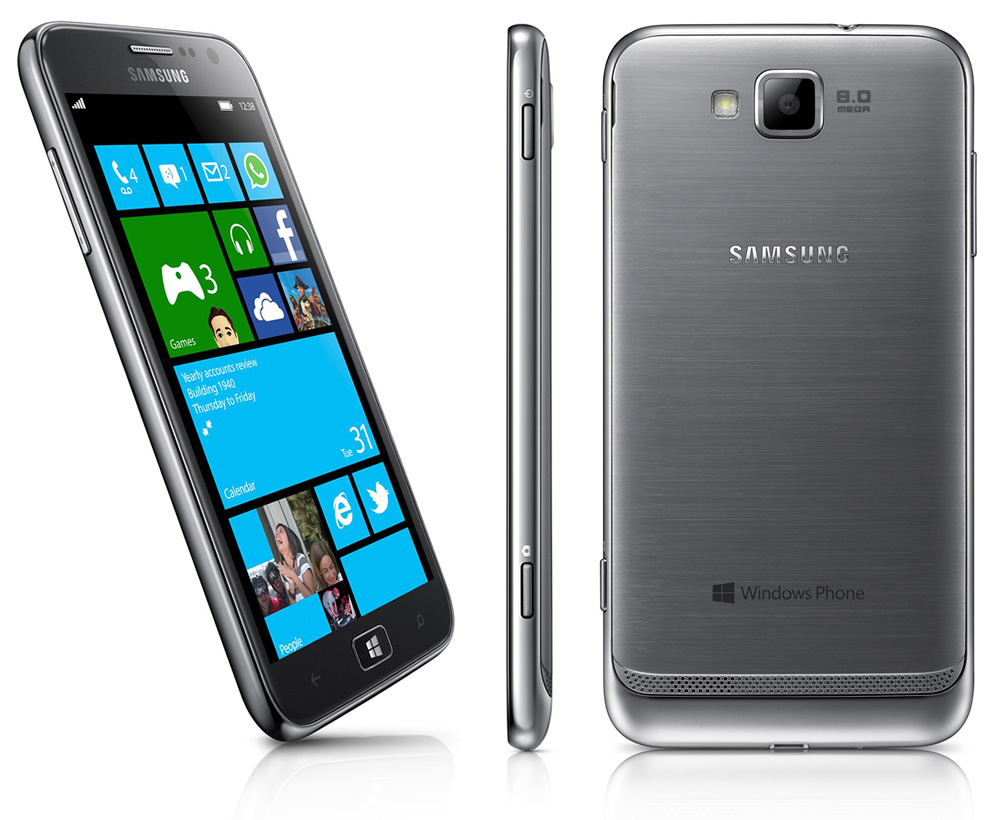 Processor: The Lumia 920 is one of the fastest Smartphones that Nokia have ever produced. The 920 is running on a 1.5GHz (1GB RAM) dual-core Qualcomm Snapdragon S4 chip. The Ativ S is again clocked at 1.5GHz (1GB RAM) whilst also sporting a Qualcomm chip too BUT.. it is paired alongside an Adreno 225 GPU for a smoother experience without any lag. The Ativ S just shades this one for me.
Display: There's no surprise that Samsung have produced yet another highly vibrant screen with the Ativ S. A 4.8-inch Super AMOLED screen that operates at a resolution of 720×1280 pixels with a pixel density of 306ppi. The Nokia Lumia 920 has 4.5-inch WXGA IPS LCD operating at a resolution of 768×1280 pixels, with a pixel density of 326ppi. Both feature vibrant and tough screens but the Lumia 920 has the slight advantage here; as the smaller screen gives the user that slightly richer experience.
Storage: The Lumia 920 does NOT have a micro SD card slot for expandable storage but they do soften the blow with a fairly large internal storage of 32GB. Samsung provide an internal storage of 16GB with the option to expand with a Micro SD card slot. Unsurprisingly the Ativ S is the favoured option here.
Camera: Samsung's Ativ S features an 8-megapixel camera with auto focus, LED flash, image stabilization, geo tagging along wth 1080P video capture. The handset also features a 1.9-megapixel front facing camera for Skype. The Lumia 920 has an 8.7-megapixel PureView camera that features a Carl Zeiss Tessar Lens as well as 1080P video capture. Nokia are leaps and bounds ahead when it comes to camera capabilities, they have given their users a wonderful piece of kit; especially if we are referring to the photography side of things. The Nokia Lumia 920 is the clear winner here.
Design: The Nokia Lumia 920 (130.0mm x 70.8 mm x 10.7 mm; 185g) has a quality build that feels solid in the hand. Samsung have designed something not too dissimilar to previous handsets with the Ativ S (137.2mm x 70.5mm x 8.7mm; 135g). Yes, the Lumia 920 is a fair bit heavier than the Ativ S, but the sheer build and quality of the device is second to none.
Verdict: Nokia have really surprised a lot of people with their Lumia range. The Lumia 920 is bold & beautiful device that really is a going to be remembered for all of the right reasons. The build quality and features outweigh that of the Samsung Ativ S in my opinion. Let's not get confused; the Samsung Ativ S is a top end WP8 device that offers a lot to it's potential user but Nokia have really pulled out all of the stops with their first WP8 release.
We would love to hear your opinions on which device you opted for and whether you felt you made the right choice?
8 megapixel images from the Samsung Windows Phone.
Take a look at the following images to see what you can expect from the Samsung ATIV S Windows Phone 8 megapixel camera.
All images have been captured at full 8 megapixel resolution. Click on each image to enlarge.
What languages are on the Samsung ATIV S?
Do you communicate in multiple languages or want to buy an English Samsung ATIV S, but want a different language on the device?
An unboxing of the new Windows Phone 8 device from Samsung
We have completed a quick unboxing of the Samsung ATIV S, the new Windows Phone from Samsung, which without doubt will be up against the hugely popular Nokia Lumia 920.
We are pleased to inform you that we are now expecting stock of the Samsung ATIV S and Samsung ATIV Tab to be here this Friday.
The Samsung Windows Phone 8 devices have been slightly longer in coming than rival devices, but they are now due to be here later this week.
The ATIV S is the first Windows Phone 8 smartphone to be released by Samsung, priced at £369 (£442.80 inc. VAT). It differentiates to the flagship competitors on Nokia and HTC in that it has a microSD slot as well as 16GB internal storage.
The ATIV Tab is priced at £449 (£538.80) and is the first Windows RT tablet to be released by Samsung. Stock will be limited so if you would like one to be shipped on Friday for you, we recommend placing an order ASAP. Here's a look at the main features that the pair have to offer.
Samsung ATIV S
Windows Phone 8
1.5GHz dual-core processor
4.8″ super AMOLED display
8MP camera with autofocus and LED flash
MicroSD slot
16GB internal storage
Wi-Fi & Wi-Fi Direct
DLNA
3.5mm port
Samsung ATIV Tab
Windows RT OS
1.5GHz dual-core processor
10.1″ HD LCD Display
5MP rear Camera
1.9MP front facing camera
32GB Internal Storage
S-GPS & GLONASS
Wi-Fi
NFC Bluetooth 4.0
MicroSD slot (up to 64GB)
MicroHDMI
USB Host
265.8 x 168.1 x 8.9mm
570g
We put Samsung and HTC's new flagship Windows Phone 8 devices side by side
Windows Phone 8 devices are set to launch towards the end of this month and early November. We don't have the devices in store yet so an in depth discussion of how the new operating system works on these devices and comparison is still a little way off. What we can do is put the released hardware specifications side by side and look at how the flagship devices from Samsung and HTC, the Samsung Ativ S and HTC 8X, are shaping up.
Follow the break to read the full comparison
We have now made the Samsung Ativ S 16GB available to pre-order having received pricing and availability details. The first stock is due to arrive at the end of October and will be priced at £369 + VAT (442.80 inc. VAT).
If you place a pre-order on the Clove website, your card will not be charged but you will be given priority once stock is available.
The price of the Ativ S does bring it in slightly higher than that of HTC's flagship, the 8X, which is priced at £399.98. At the moment we still await SIM-free pricing for the Nokia Lumia 920, but given the competition that Nokia faces from Samsung and HTC, we can expect it to be not too far off the Ativ S.
We have now had pricing and availability info through for the Samsung ATIV Tab and have therefore made it available to pre-order on the Clove website. The ATIV Tab is due to arrive at the end of October, priced at £457.50 (£549 inc. VAT). Placing a pre-order will not result in your card being charged, but you will be given priority once stock is available.
This is amongst the first UK pricing to emerge for the new Windows RT tablets. While the price is still subject to change before release, this is a good indication of the kind of price that we can expect the high end Windows RT tablets to launch at. We will also provide price and availability for the keyboard dock as soon as it is available, as well as the Samsung ATIV S smartphone.
Samsung ATIV Tab main features:
Windows RT OS
1.5GHz dual-core processor
10.1″ HD LCD Display
5MP rear Camera
1.9MP front facing camera
32GB Internal Storage
S-GPS & GLONASS
Wi-Fi
NFC Bluetooth 4.0
MicroSD slot (up to 64GB)
MicroHDMI
USB Host
265.8 x 168.1 x 8.9mm
570g