Sony Xperia Z Review
The Xperia Z has received a lot of attention since its launch last week at CES.
I have been lucky enough to have hands on with a pre-production device for a few days (72 hours) to cast my thoughts and opinions on the device and provide an early Xperia Z review.
Do please consider this in concluding your thoughts as the final production unit and longer hands-on time may have an affect on my final thoughts and opinions.
If you want to just sit back and listen to the review, you can with the sound clip found HERE.
Design/Build/Size/Hardware
As many others have commented the Xperia Z looks stunning.
I class it somewhere in between the Samsung products and the Apple products. In my opinion it does not feel quite as cheap as Samsung but not quite as premium as Apple.
The front and back tempered glass give a glossy look to the device and the black band that runs over the edges makes it look solid and complete.
The glass is certainly a fingerprint magnet. You will be forever cleaning it, so it might be worth investing in a case or the likes of Crystalusion to protect the device.
If I used this as my daily phone, I would probably struggle through with the fingerprints to admire the design.
With a 5" display there is no denying that you are not going to miss this device. It is big, but well proportioned in comparison to the competition.
I use a Samsung Galaxy S3 as my daily phone and in the hand it didn't feel too much different, I could quite easily become accustomed to using it. Personally, I sometimes find the 4.8" display on the S3 slightly over-sized for one handed use and this goes for the Z too, but depending on your hand size you may feel differently. The device is only a little taller and you can't tell any difference in the width. The Z does seem to have a bit of an expanse between the screen and the base of the device, which contributes to its height, but a large bezel can be expected on such a big screen.
Having said this, the Xperia Z does feel more solid – the squarer design works for and against it – coming across as a bit more robust and aggressive in the hand. I think the curved edges of the S3 make it feel more comfortable for prolonged use but the curvature also makes it a little less grippy. The Z does too feel fairly well balanced, no real noticeable additional weight at the top or bottom of the device.
At 7.9mm thick, the Xperia Z is positively thin and feels such. It is quite impressive how thin it is considering all the kit inside. However one does need to consider it is a sealed unit, so the battery can not be removed and there is slightly more length in comparison to the S3.
If you use a Note or Note 2 the Z will most likely feel dainty in hand.
The power button is a bold statement on the right side of the device and is quite well placed. I am left handed but have generally got used to operating all phones with my right. However, other left handed users may not agree with the button positioning.
Located just under the power button is the volume up and down keys. Often found on the left side of a device, it is an odd, but clever move by Sony to put them within close proximity to the power button and thus falls within a comfortable reach for most users.
Below the volume keys is the solitary speaker, which I will come onto later.
The headphone jack is located on the top of the phone to the right edge.
The base of the phone has product information on it and a lanyard connector. Yes, a fantastic feature that is not required by all but is a desirable and handy asset. Well done Sony; the sporty smartphone users will love this. You will be able to carry the phone around the neck or wrist or however you please using this connector, although prolonged transport of the device in this way could strain you slightly.
The back of the phone has the camera, LED flash, a microphone, the Xperia logo and regulatory information at the bottom. The text is not raised as it is all etched into the glass and is smooth to the touch.
A point to note here is that Sony does not disclose the toughened glass they use, but it comes up to spec of Gorilla Glass or Dragontail. It is suggested that Dragontail is what they use, but not specifying this means that they can chop and change I believe without issue. The main thing is that it is toughened and should resists scratches. Our review device did sustain a scratch, but it was put through lots of hands-on testing and is a pre-production model.
To enable the device to have its IP rating all the ports have covers. This is a positive and a negative. On the plus side, it helps keep a sleek stylish design whilst on the negative side it is a fiddle when all you want to do is connect the power cable. However, the covers are easier to open than many I have used in the past (some really good design work form Sony here) and there is plenty of play in the cover connector which therefore means you do not feel like the cover will snap off after a couple of weeks.
An odd point to note is that the MicroSD & headphone covers have a symbol on them to tell you what they are whilst the USB and SIM card slot do not. I find this inconsistency a bit puzzling, but again it could be put down to the handset being a pre-production model.
So the covers are not as big an issue as one may think, but the story gets better. On the left side beneath the microUSB and microSD covers are two gold pins. These two pins are connectors for a dock that Sony has produced. Pop the phone into the DK26 dock (landscape) and the device can charge without having to remove the cover on the port.
The Sony Xperia Z has an IP55 & IP57 rating, meaning the device is water and dust resistant and can be submerged in water of up to a metre in depth (3 feet) for up to 30 minutes and it will work fine.
We had the device in a bowl of water, in a hot tub, in a shower, in a sink, in a puddle and under a running tap and it continued to work. As with any water resistant device, operation within water is prohibitive as the screen is affected by the water pressure. Thus if you think you can play Angry Birds whilst taking a shower you may be disappointed.
In all reality you could probably leave it submerged for longer and at greater depth and it will most likely be fine, BUT WE DO NOT advise this. A point to note here is that covers do need to be closed otherwise water can ingress into the internal parts of the device. We understand the internals of the device are also protected against water but DO NOT try dunking it with ports open! What this means is that if in a worst case scenario it was exposed to water with a port cover open it will likely survive, but there is no guarantee.
The Z is packed with plenty of features and power. Under the skin of the device is a quad-core 1.5GHz processor, 2GB RAM, 16GB of internal memory, Bluetooth, NFC, WiFi and much more.
Display
At 5" it will either be too big, too small or just right depending on your preference; however with a resolution of 1920 x1080p on Sony's Full HD Reality Display, images were very vivid and bright and certainly give the likes of the S3 and the iPhone 5 a run for their money.
For those that are interested the Z has a PPI of 443 whereas the iPhone 5 has 326.
In terms of viewing angles the Z did not fare as well as the competition here, but I am not sure how many of you view the device at angles other than pretty much face on, but if you do the Z might not live up to par.
In short, videos and pictures looked very good, but then most screens on smartphones do these days.
Audio
A possible strength and weakness of the Z exists here.
On the positive the speaker is very clear, and it did not appear to distort at full volume so the audio quality will satisfy most.
On the downside is the fact that there is only one speaker and its location. At the bottom right corner of the device, it is prone to getting covered up by a hand or finger, depending upon how you hold the device. This issue is more prevalent in landscape mode.
As a result of the above, the audio can sound a little directional at times; if you move the device or were playing the audio to a larger group it could sound better from one angle than another. A secondary speaker on the left side would have been a real bonus.
Connectivity
The Xperia Z has loads of features that ensure it competes with all the leading smartphones.
I need not explain WiFi, Bluetooth and NFC and what that can do for you, but these all work and ensure the basic connectivity options are covered.
The Z does too have 3G and 4G connectivity (subject to your network operator support) through the SIM card. I was unable to test the 4G but I can say 3G worked as you would expect.
Using the microUSB port you can connect a plethora of accessories including memory sticks, games controllers and more. You do require a USB host cable to do this but they are easily accessible and give you a more powerful smartphone if utilised. Mobile office workers, this could be a good feature for you.
I also tested the slightly older Sony Ericsson Livedock and was able to connect a USB 2.0 hard drive to the Z which is pretty impressive. You need the Livedock to do this as it takes the additional power that is needed to power the hard drive. The phone itself does not offer enough power to the hard drive to work through the USB host cable.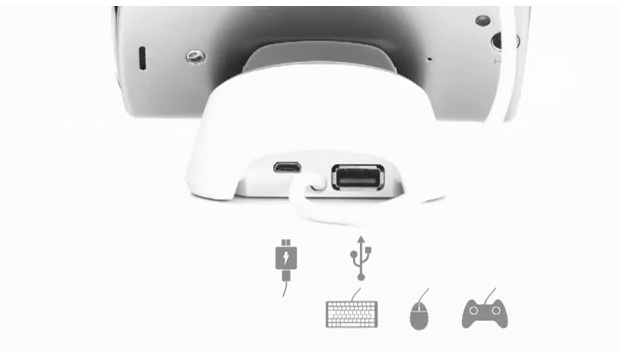 The Z can also wirelessly share the device content to an HD display, although you need a compatible Sony display to do this. I should comment here that I do not know if other brands of TV's will support the wireless display function or whether updates etc. will allow for this.
For the masses you will be looking at a more traditional cable solution to connect to an HD display. You need the MHL adapter that the Samsung Galaxy S II and Galaxy Note used (available here). This is also the same adapter that the Xperia T used.
A downside to this device for something so new and cutting edge is the lack of support for microSDXC memory cards. You are limited to 32GB memory card. 64GB memory cards are supported in the Z but have to be formatted in the phone to work. Pair this with the 16GB internal (approx. 12.5GB user accessible) and this is enough for most.
Something Sony have not shouted about is the fact that this is a PlayStation Certified smartphone, so the gamers out there will be able to play some of their favourite titles available on the PlayStation Network, which should be pretty good on the 5" display. Using a USB host you can connect a PlayStation controller if you so choose, or the more enthusiastic users will connect the Z to a display and use a Bluetooth controller for gaming.
You can see an in depth video on connectivity options of the Z below:
Camera
13 megapixels, an Exmor RS sensor and HDR for video in 1080p all sound very impressive but what were the results of this and the 2.2 megapixel front facing camera?
While my photography knowledge is not as great as it could be, I know how important the colour balance, brightness and sharpness for different people can be and I now have a reasonable level of experience having taken sample photos on 20-30 handsets over the last year or so.
However, you can make your own judgements on the Xperia Z camera based on the images we uploaded HERE.
The camera software on our device was buggy, it crashed a few times on me, so the image and video results are perhaps not reflective of the final device.
I generally like Sony cameras and the colours they produce. Some images were very rich and reflective of the scene that I was actually capturing whilst others were darker and over-saturated in areas, making a dark scene even darker than it was in reality. Bright sunshine also seemed to cause a bit of an issue with the colours.
The Superior Auto mode will definitely be a winner for the average Z owner, but I did notice at times that, due to light and colours, it was not detecting what I felt were the best scene modes for what I was trying to capture. In Superior Auto mode it also took images at 12 megapixels only.
To capture in full 13 megapixel glory, you need to use normal mode which worked pretty well and gave a much better scope for tweaking the images and achieving greater results for those that are a little more particular about the final product.
You can use the volume keys as zoom controls on the camera, but to be honest unless absolutely necessary avoid it. The images are awful when zoom comes into play.
HD footage was good and there was a noticeable difference with HDR; the whole image looked richer but there were issues with the image stabilisation and focus at times. There was slight lag and a lack of smoothness in some of the footage reordered; I am inclined to believe this will be resolved come launch. Video sample HERE.
There are plenty of camera controls and effects that can be used for those who want them.
The front facing camera also produced reasonably good results and is perfectly adequate for day to day use.
The lack of a dedicated camera button is a negative so it is all on-screen tapping to take pictures, unless voice gestures come in an update, Sony?! (I like this feature on the S3).
For those who want a camera shortcut from the lock screen, as with Jelly Bean 4.2, this is available unless you have a PIN/pattern security lock active.
Battery
STAMINA mode is a big selling point for the Xperia Z in that it can extend the battery life by up to four times according to Sony. As you switch the screen off, it can turn features like WiFi off as the reality is that if your screen is off you are often not using the feature. There is to be a manual override for this, enabling you to switch the STAMINA mode on or off altogether or indeed if on, deciding which functions it shuts down.
In principle I like the idea, extending the battery life is important, but I am not convinced that users will necessarily take the time to make it work best for them. For example, sometimes you may want it to shut WiFi off and other times you may want Bluetooth off, I am not sure how it will handle different routines. It is ok if every time you turn the screen off, you want everything off; I guess time and further testing will tell, but for those that are willing to take the time to configure STAMINA, learning to use apps such as Tasker or Llama may be a more rewarding option in the long run.
We didn't have the device long enough to test this feature properly so can not report on whether it does what is says, four times seems remarkable so even if in reality it only doubled your battery life, that is still a massive bonus.
In the time we had the device we were using it extensively and the usage was not normal thus it is difficult to comment with precise figures and performance, but what I can say here is that I neither noticed dramatic decrease nor increase in the battery life/usage time.
Roughly speaking it lasted from 10am to 6pm without a need for a charge whilst we were testing.
The observant individuals noticed in a video that the Sony was dropping % on the battery quicker than an S3. However as and when the latest updates are applied to the software, it is likely this will compete much more closely with the Samsung Galaxy S3 which has seen improved battery performance through software updates.
Software
So out of the box, the Z will be running Android 4.1, but will get an update to Android 4.2 shortly after launch.
I found the performance to be up to par with comparable devices and didn't really notice any lag or issues with the software in general.
You get all the usual Google apps including Gmail, Maps, Navigation, Google + etc but you do then too get the added apps from Sony.
Being Android there is the Google Play Store, so downloading all your favourite apps and backing up/restoring apps is simple and there is not excuse not to expand the scope and functionality of the Z.
As far as general everyday usage goes – everything performed fine, from accessing emails to making a phone call. The experience is pretty standard so to speak. Of course there is the odd Sony styling and customisation here and there which you will either love or hate, but nothing out of the ordinary.
One small enhancement that I found particularly noticeable was homescreen management. You are able to add and remove home screens on the Z with much more ease as well as actually selecting which should be the main homescreen.
There is also the option of little pop up windows called Small Apps that sit above the screen you are on and give you additional functionality. For example, a calculator, sound recorder or notes app can be moved around and re-sized on the screen and makes for fast and efficient access. I can see for example you may have some figures on screen in an email and you open the calculator to sit on top of the screen whilst still being able to see the figures in that email. A nice touch that is not that dissimilar to Samsung's Multi View.
The Smart Apps currently include Polaris Office, Music Unlimited, Video Unlimited, Sony Car, Xperia Link and Smart Connect.
Music Unlimted is a great app, albeit subscription based, (usually a trial period available), that is an alternative to Spotify. You pay a monthly subscription to access the content and this can be downloaded for offline playback. There is a huge music database thanks to Sony's record label and in fact heavily underrated as a competitor to Spotify or iTunes. It is available on any Android device; just download the app from Play Store. Video Unlimited goes along the same lines.
Sony Car is a mode with bigger and simpler to use icons for use when in a vehicle. It makes those things you might want to do whilst in a car much easier.
Xperia Link assists with sharing the Z's internet connection with other mobile devices, including tablets and laptops.
The best additional app we noticed on the device was the Smart Connet which looks to be an enhancement of Sony's Liveware Manager and a play on Motorola's Smart Actions whereby the device will complete certain tasks based on certain conditions. For example plug in headphones and the Z will open the music player and turn off WiFi.
At a time when hardware is so similar with negligible differences, these software tweaks make the difference and most importantly enhance the user experience. With a bit of tinkering, the phone can do a lot more for you, making you more efficient and better managed.
Conclusion
One person's opinion will always differ to another's, most notably because what we want from a device differs.
With all things considered for me I am really attracted to the Xperia Z, but right now I wouldn't ditch my S3 for it. The reason being that the Z doesn't offer me enough to be worth the switch. The IP rating is a nice safety net for worse case scenarios and the design is glorious and makes the S3 look boring, but the screen size is on the limits of what I would want as a phone at this time.
However, if I was due to upgrade or looking to replace my phone it would be a VERY tough decision. Samsung has a great name and impressive devices, but the Z appears to be a new era for Sony – it's more pleasing aesthetically and offers practically the same features.
Users of smaller devices may find the 5" screen a bit of a step up, but it could quite possibly be one you get used to based on the thickness of the device. To a Note user, the Z will seem small but the lack of S-Pen and removable battery etc will most likely be a reason to stay with the Note rather than the Z.
I hope that I have covered most things for you. Any comments or questions leave them below and I will do my best to answer.
For more information on the Xperia Z, please click HERE.