This review of the Sony SmartWatch has been posted by Stephen Murray (@mintymurray) over at Coolsmartphone. Below is an extract of the review, you can read the rest here. We are currently waiting for more stock of the Sony SmartWatch to arrive and will dispatch any remaining backorders as soon as possible.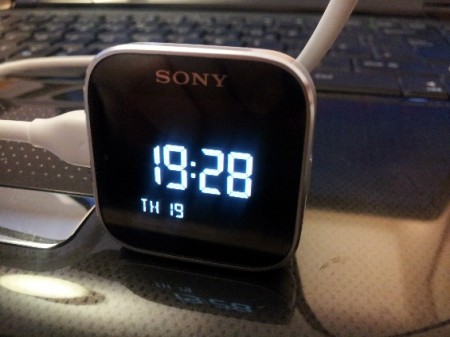 After allowing the SmartWatch to charge for the recommended 2 hours (well almost 2 hours..), it was time to fire it up!
Switching the SmartWatch on sends it into pairing mode, so you need to add a new device on your Android phone (a Samsung Galaxy S2 in my case). Once that is completed, the apps you download from the market that support the SmartWatch appear on the watch unit itself.
The Apps you can install range from the obvious Twitter and Facebook , to 'Find Phone' and GMail notifier. My favourite so far is the 'Music Player' App. This allows you to Play/Pause, Fwd/Rwd music using your default media player on your phone. You can even adjust the volume by swiping the screen. This should come in useful at the gym. It would be perfect if it would show the album art too.
Find Phone is also pretty cool, tap the link on the SmartWatch , and even if your phone is on silent, it will play your default ringtone. The only downside to this is that you need to be within the bluetooth range of your phone.
You can even answer and reject calls, and send a pre-defined text message from the SmartWatch. Handy if you are in a meeting.